Design and analysis
of roller bearing cages
IN COLLABORATION WITH JTEKT KOYO, Clemson researchers advanced the fundamental understanding of material and process dynamics for optimal design of a bearing's polymeric cage.
PROCESS DYNAMICS
JTEKT North America is a leader in automotive bearings. It has been a part of the Clemson University International Center for Automotive Research since 2006.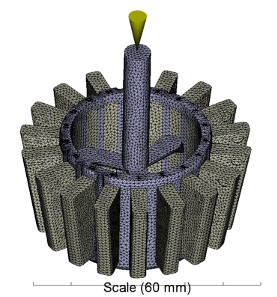 OBJECTIVES AND PARTNERSHIPS
MAIN TASKS
MATERIAL SELECTION and process physics optimization

Design of the cage geometry
Material selection
Design of the mold
Fabrication of the mold
Injection molding of cage
Injection molding of tensile specimens
Characterization and testing

EFFECT OF FLUID such as moisture and oil on the properties and geometrical dimensions of polymeric cages
FORCE COMPUTATION for assembly/disassembly of rollers in cage by modeling the geometry of the cage and the deformation mechanism. The required force to push out the roller from the cage was calculated according to the stiffness of the cage material.